---
On the Ball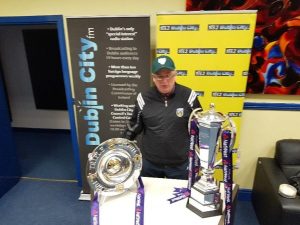 Our flagship Sunday afternoon sports show has been running for more than 25 years. Over the past few years, On the Ball has acquired a panel of regular contributors for the various sports the show covers on a regular basis. We have been the only radio station to have covered the Women's National League in soccer from the very first week of it's debut season back in 2011.
Brian Talty does the analysis for Gaelic football, Andy Cunningham for Camogie and Hurling on our live GAA Commentaries during the season.
Nathaniel Cope from Basketball Ireland brings us the weekend's basketball action.
Stephen Findlater from Hookhockey.com summarises the weekly hockey action.
Conchubhair MacLochlainn, is our main regular rugby analyst, assisted from time to time by
The Line Out's
Gerry Corry.
Local Cricket is covered by Bob Swarbrigg and Interprovincial and national team matters are looked after by Bernard Whelan.
We also have news from Baseball Ireland to keep us up-to-date with Irish baseball during the summer.
---