---
Good Morning Dublin
News, Current Affairs
Good Morning Dublin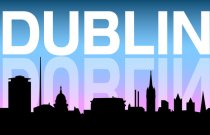 Tagged as:
Good Morning Dublin is 103.2 Dublin City FM's premier weekday morning show aired from 10am to 11am and is transmitted from the Bill Drakeford Studio (control) & Studio 2 (talk). It includes news, an eclectic mix of interviews, reviews, discussions and coverage of everything from current affairs and politics, health, music, media, and all kinds of Dublin events.

Presenter(s):
Colin McStay, Emma Jane Purcell, Laura O'Shea, Anne Rutledge, Natasha Gillies, Louise Tighe, Emma Murphy, Stephen Keogh.
News Team: Michael Glynn, Ciara O'Loughlin
Phone Number: +35318658020
Text Only: +353879771032
Email Address: [email protected]
Executive Producer: Michael Glynn, [email protected]
Sound Engineer(s): Hazel Lake, Eoin Fitzpatrick,  Derek Fenlon, George Kelly, João Diogo Ramalho de Almeida.
Podcast Producer:  Pia Eichinger, George Kelly.
---
Scheduled on
| | | | |
| --- | --- | --- | --- |
| | | | |
| Monday | 10:00 | | 11:00 |
| Tuesday | 10:00 | | 11:00 |
| Wednesday | 10:00 | | 11:00 |
| Thursday | 10:00 | | 11:00 |
| Friday | 10:00 | | 11:00 |